Walks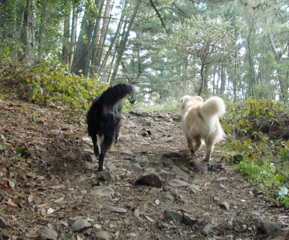 Our dog walks are on the trails of the east bay, just outside of Oakland, Piedmont and Berkeley.
After arriving right at your door to pick up the pooch, together with the other dogs in the group, we leave the clutter of the city streets, and head up to the beautiful network of trails in the East Bay Regional Park system. Whether it's Sibley Regional Preserve, Chabot Regional Park, or some other trail-of-the-day, your dog will have a full hour walk to be truly 'In Their Element'.
'In Their Element' specializes in the leash-free trail hike experience, where dogs are able to not only walk, but run as well, allowing them to get more exercise, and have more fun along the hike. Most dogs on the hikes have earned the privilege of being leash-free, and we go only to parks where they are permitted to be leash-free. We migrate, as a group, with purpose, for a full hour, under the direction and leadership of an experienced and professional pack leader. Our walkers are among the best in the industry, and are trained to provide a safe, structured environment for the dogs, in which they can have fun, exercise, learn, and be social in. All of this contributes to happy, healthier, and more balanced dogs.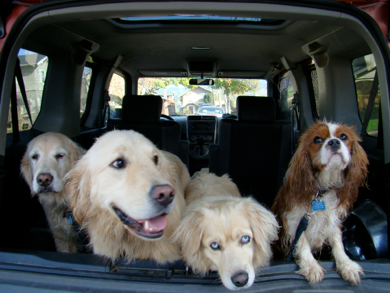 After the hike, your tired, content, and happy dog gets dropped back off at your house, complete with an 'Outing Report' giving details of the day - including where they went, who they played with, and other fun things that may have happened along their walk. So when you get home you can rest assured they were well exercised during the day, and are ready to spend a quality calm evening with you at home.
To get your dog started, email Glenn at This email address is being protected from spambots. You need JavaScript enabled to view it. or call Glenn at (510) 435-3814.
Or click here to send an email.