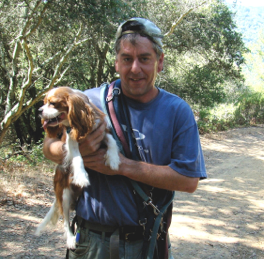 Glenn was raised in a house full of dogs in Michigan, and dogs have played a huge part in his life ever since. After graduating from Michigan State University, he relocated to California where he lived in Oakland for twenty years. After gaining tremendous experience, he took the final steps of creating a business of his own that met his personal expectations of dog care and quality. In Their Element has been in business of providing fun outings for dogs for over fourteen years now.
Glenn is married and lives in Orinda with his wife, two children, and their dog Rosie. Rosie loves to come on the trail hikes whenever a spot is available.
The main thing that sets 'In Their Element' apart from other dog walking services is the level of devotion to you and your dog, and our commitment to ensuring that you're both getting the best possible experience. Our goal is to make a positive difference in your life and the life of your dog. The golden triangle and overall focus of our company is quality outings, reliability/dependability, and the safety of your dog.
Glenn is trained and experienced in pack management, canine body language and psychology, and has over 6,000 trail hours of Group Leader experience.