Our dog walkers are the best in Oakland, Piedmont, and Berkeley.
Staff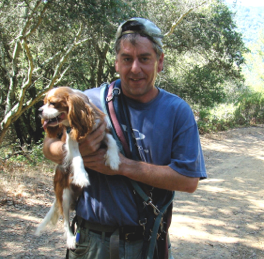 Glenn Millstone
Owner and Director
Glenn was raised in a house full of dogs in Michigan, and dogs have played a huge part in his life ever since. After graduating from Michigan State University, he relocated to California and has lived in Oakland for the last seventeen years. After gaining tremendous experience, he took the final steps of creating a business of his own that met his personal expectations of dog care and quality.
The main thing that sets 'In Their Element' apart from other dog-walking services is the level of devotion to you and your dog, and our commitment to ensuring that you're both getting the best possible experience. Our goal is to make a positive difference in your life and the life of your dog.
Glenn is trained and experienced in pack management, canine body language and psychology, and has over 4,000 trail hours Group Leader experience.
Marisa Piovarcsik
Walker, Pack Leader
We are very excited to have Marisa Piovarcsik as part of the 'In Their Element' team. Marisa's passion for dogs turned into a career fourteen years ago when she began working as a dog handler at a local dog daycare/kennel. After a year of managing playgroups, she became a kennel manager providing care for the dogs boarding with them. She's worked with thousands of dogs, including all breeds, sizes, and temperaments, which has given her lots of insight into dog behavior. Now, she's happy to be working 'in their element', where she can make more of a positive difference in the lives of individual dogs. She's also done volunteer work at Hopolong Animal Rescue, and has two dogs of her own, Indigo and Comet.
CC Sheldon
Walker, Pack Leader
CC Sheldon grew up in the small Tahoe town of Truckee, California, surrounded by mountains and nature. She is a proud graduate of Truckee High, and a truly adventurous soul with a real passion for life. By day you'll usually find her exploring the trails with her best buddy Gus, a four year old Shih Tzu that is an off-leash hiking sensei. And by night, you'll usually find her on a San Francisco stage, performing whatever play or musical she's in at the time. CC is an actress, dancer, and vocalist, and graduated from the Pacific Conservatory for the Performing Arts. And when CC is on stage, you'll usually find Gus napping under her dressing room table. CC has done an incredible job for four years now, specilaing in leading groups of mostly small to medium dogs.